Posted by Daniella Park on 16th Sep 2021
Alcoholism or drug abuse and addiction start digging deep in your life once you feel they are the only coping mechanism in life. Treating or tackling tense and pressure-ridden situations demands a wise sense of decision-making gelled with some bravery. Alcohol comes in as a savior when you don't have any of the traits mentioned above. Distressed, negative, overthinking, poor rational and conceptual understanding, etc., all serve as a platform for drug abuse to grow as a parasite. Becoming a difficult problem to manage as it can affect the other areas of life, the overdosage of alcohol and drugs often becomes a single pathway to dealing with pessimism and ceasing self-confidence.
Alcoholics Anonymous assists a relief from heavy alcohol usage
Alcoholics Anonymous assisted many in getting on the road to sobriety through a fight against alcohol abuse. Proving the best way to treat and cure alcohol abuse, the AA gifts for recovery have strengthened the fight against drugs. AA delivers strong messages to recover well with unwavering support and commitment towards sobriety. Arousing a true sense of inner power and motivation in one and all, Alcohol Anonymous Bracelets, in particular, engender the positivity and self-confidence to fight against abuse with great focus and integrity. AA sobriety bracelets are the recovery gift online that give birth to a new gleam of hope for imbibing positively overwhelming spirits.
4 Inspiring Sobriety Gifts That Encourage Recovery
1)Serenity Prayer Metal Stretch Bracelet with AA Charm
The beautiful Serenity Prayer is a featured Silver metal stretch Bracelet. The bracelets deliver a strong sense of plea to God to help fight alcohol abuse with a true sense of wisdom. The bracelets, when worn, give you a serene feel that develops only when you nurture goodness on the path to spiritual healing. The best sobriety bracelets remind you how virtuous your life is and the importance of sobriety in it.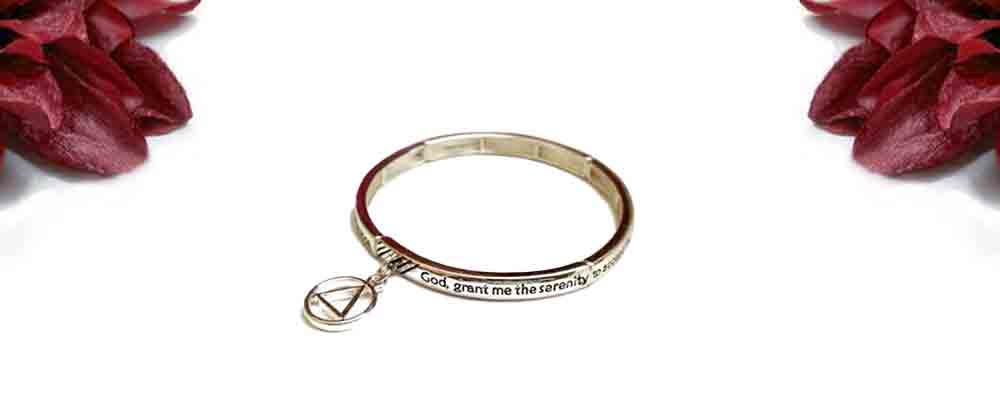 2)Small Tumbled Natural Amethyst Healing Stone Bead and Bar Bracelet w/AA Charm
Amethyst is considered the Sober Stone. The Dainty Stone for any man or woman is considered a smaller "tiny" tumbled Amethyst stones cinch bracelet. These represent the power to heal you physically, emotionally, mentally, and psychologically. Symbolizing good luck and prosperity, these charms also protect you from any evil spirits or spells in addition to fighting against alcohol addiction.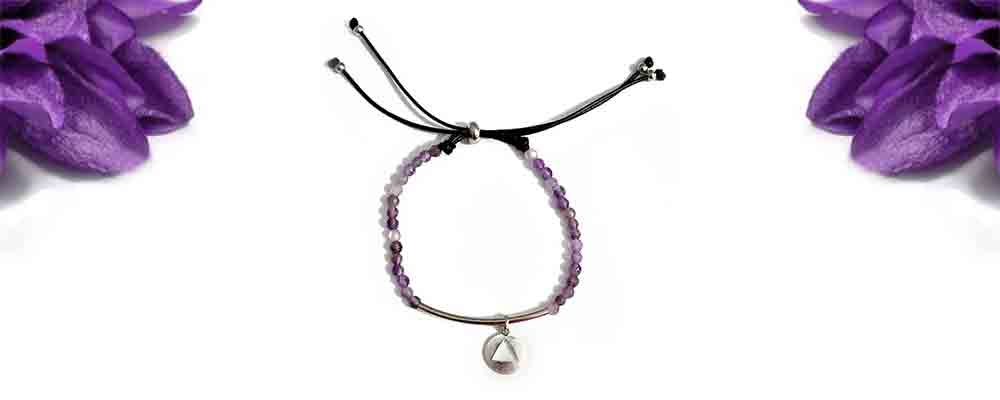 3)AA Blue Topaz Crystal Bracelet & Earring Set - Alcoholics Anonymous
Proving the most inspiring gift for a healthy and sober lifestyle, the AA blue topaz crystal bracelet and earring set is a vivacious stone for picturing clarity. Allowing you to channel your inner wisdom and the very rational being, the stone keeps bringing out a better version of you. Paving the perfect pathway for successful opportunities, anyone who wears it embraces their authentic self, trusts their power, and revels in good fortune.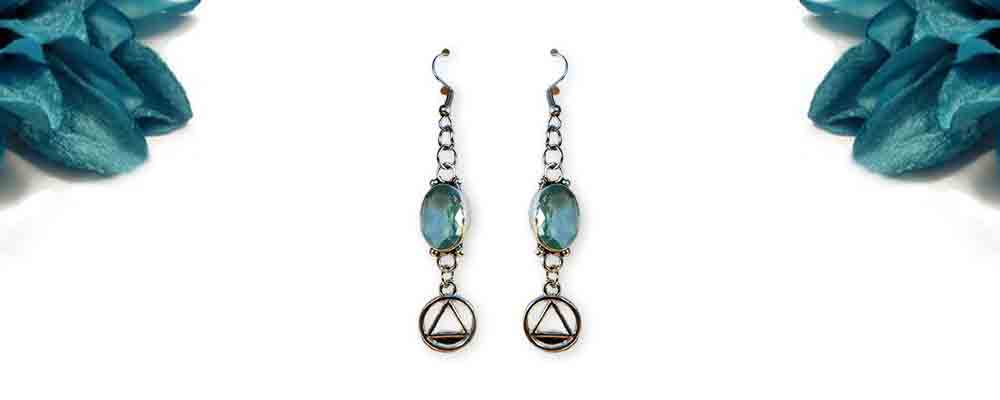 4)Frosted Stone Beaded Stretch Bracelet In Green Alcoholics Anonymous
Revolutionizing beads crystal energy and stone healing power, the frosted stone beaded stretch bracelet not only adds a new dimension to the colors of these gemstones but also aids physical ailments, emotional issues, psychological and other stress-related problems. The best out of all is the resistive power it provides to deal with alcohol addiction and other forms of drug abuse. These sobriety bracelets feature an AA Service Symbol & a pretty tassel. The stretch design fits most wrists.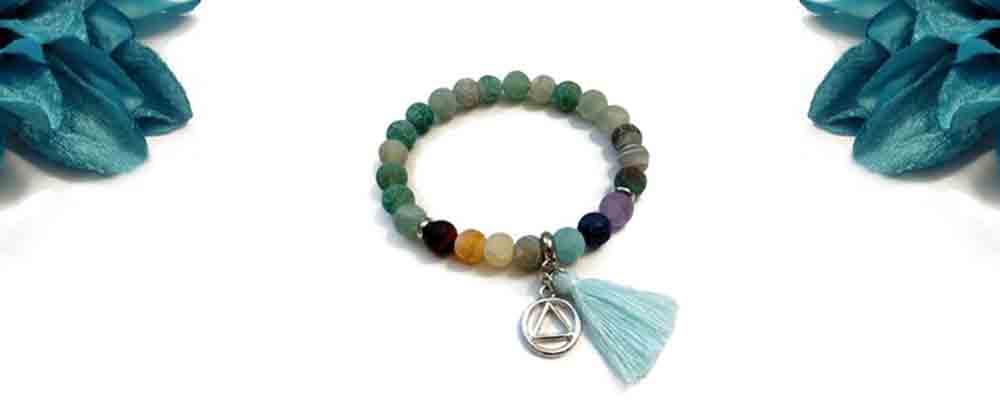 Fight addiction lead a healthy life
Encouraging dialogue and appreciating an individual fight against drug sabotage, AA bracelets online help remove the stigma that makes one mentally ill. They also help fight drug addiction with great dignity and self-respect. While on the road to recovery, emotions need to be supplied with positivity, encouraging thoughts, and a spiritual heal, and the AA bracelets are best at it. These sobriety gifts educate individuals on why recovery is to be celebrated at every juncture. Beaded with wisdom, self-respect, confidence, and the strength to fight back stronger, these bracelets help the addict fight longer to lead a healthy life